Welcome To www.marcson.com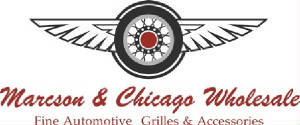 Our web site is set up as a online catalog with some of our best selling part numbers. Not all products and part numbers are listed. To get the latest in availability and applications, Please contact us and we will be more than happy to assist you in finding the right accessories to complete your restyling project. We can assisist you if you are looking for a retail location in your area.Please e-mail us with your questions. If you do not see what you are looking for, We might be able to locate it for you. We can be reached at:
Marcson Warehouse Locations:
Marcson of Phoenix
Phoenix, AZ 85008, Ph. 602-559-1108
Hours: Monday to Friday 8:00am to 5:00pm
Marcson Headquarters / Chicago Wholesale
221 E. Lake Street, Suite 221 Addison IL 60101, Ph. 630-847-5717, eFax 630-633-8227
Hours: Monday to Friday 8:00am to 5:00pm, Sat. 8:00am to 2:00pm
E-Mail us at:
From time to time we are very busy assisting customers, so if we are unable to answer the phone, please do not hang up. Leave us a message or e-mail us and we will return your call as soon as we are able to. We all look forward to working with you and look forward to speaking with you soon.

---
"Contact Us" for pricing and availability
Wholesale pricing available for qualified Retailers
(Business License and Tax ID info required)
---